I went to see Lady Gaga at the second of her monster ball dates at the O2, London.
We got there extra early, seeing as how we got standing tickets we thought we'd have a fight on our hands to get a good spot.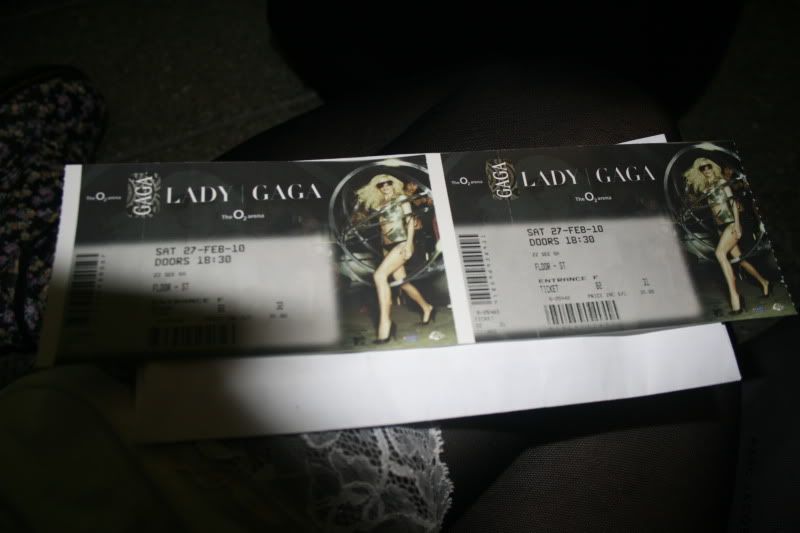 We arrived two hours before the doors opened and were directed to a gate about halfway around the 02. We joined the already long queue which was getting longer by the minute. There was a mass of hair bows, bowie lightening bolt face paint (no surprise there!) and people blasting songs from their phones, not to mention people sat in their spot eating Nandos as they'd been queuing for so long! We were waiting for about half an hour when we heard that even though the queue we were at corresponded with the label on our ticket, we were actually supposed to wait in a separate queue further into the arena. I held the spot as someone went to investigate, preparing to sprint to the other side of the arena. For some reason we were then told that because we had already queued in the first spot we weren't allowed to move queues even though the second queue was about 10 people long!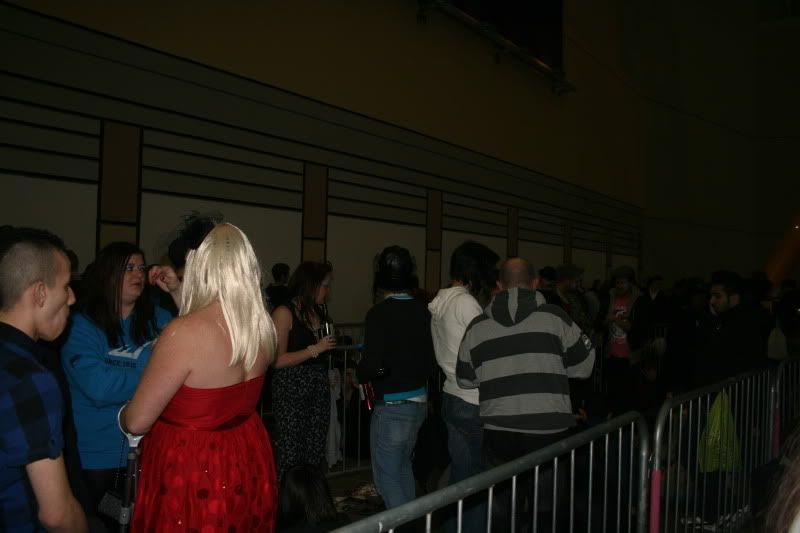 Anyway we stayed put and the doors finally opened at 6.30 ish, and after having the lid but not my actual drink confiscated (weird...) and being interrogated because I had an slr camera (apparently that means I'm press..?) we were in!
We had to walk down a long corridor where some stressed attendants were shouting for no one to run to get to the arena. Obviously nobody listened and everyone raced to the doors where you went inside. They had locked all the doors except one, which forced everyone to enter one by one. Because we had been forced to stay at the wrong queue, it turned out to work in our favour massively as everyone else in our queue was seated! So when we filed in we walked past people going to their seats and straight to the front row!
The inside of the arena was much smaller looking in real life. I've been to arena tours before but never at the 02. It always seems huge on screen, but that's the power of tv for you! While we were waiting a technician guy came out with the disco stick to fix it before the show, can you imagine that being your job??? We got really excited to see it lit up and the guy suddenly realised he was being watched and dived behind a speaker- so funny!
The first support act was Semi Precious Weapons. I've heard them before and I'm not a massive fan. I suddenly realised why the age of most of the audience was 20+, as the lead singer couldn't get a word out without screaming 'f-in NEW YAAAARK!!!!'. He was also wearing nude tights which made him look like he had no pants on...I won't subject you to any pictures....luckily (or not) he got changed in the middle of the stage halfway through the set. I will say this, he had better legs that I do and can definitely wear heels better!
The second act were Alphabeat. I liked them before Radio 1 decided to shove them down everyone's throats a while ago, but they seemed to have dropped off the radar a bit as of late. Surprisingly they sounded just as good live as on CD, it was just a shame not much of the audience seemed to know any of the unobvious songs. They also had about 50 million different coloured lights flashing at once which made every photo come out badly. Maybe it was intentional and they're camera shy..?
After a bit of a wait the lights finally went down and a big white screen lowered.
*DON'T READ ON IF YOU DON'T WANT TO KNOW WHAT HAPPENS!*
We were right next to a speaker and the bass was crazy. She performed the first song entirely behind the screen with a spotlight projecting a giant dancing Gaga silhouette. Then the screen went up and everyone went kerayyyze. The first stage set up was based around her New York apartment. The theme of the show was her and her friends trying to get to 'The Monster Ball' so it was an apt starting point. There were loads of New Yorkish neon signs and a giant car come piano with smoke coming out of it. All the in between films were shot by Nick Knight so naturally they were amazing. She performed 'Dance in the Dark' and a new song 'Glitter and Grease'.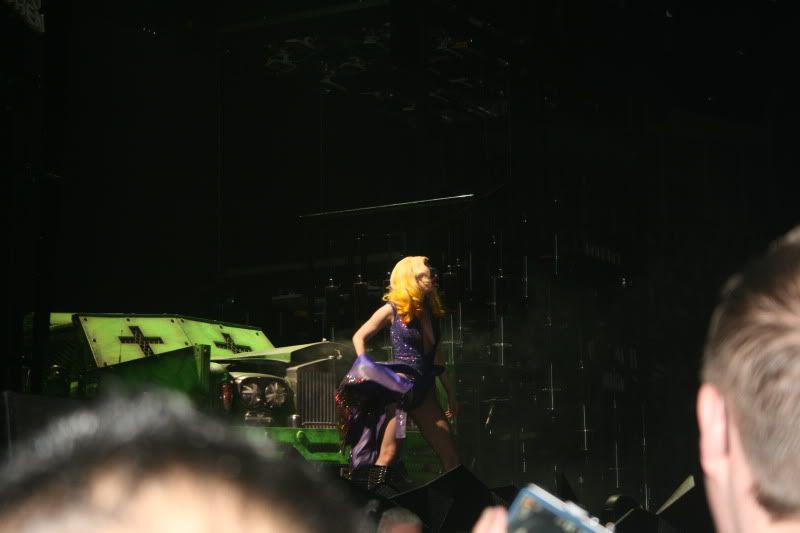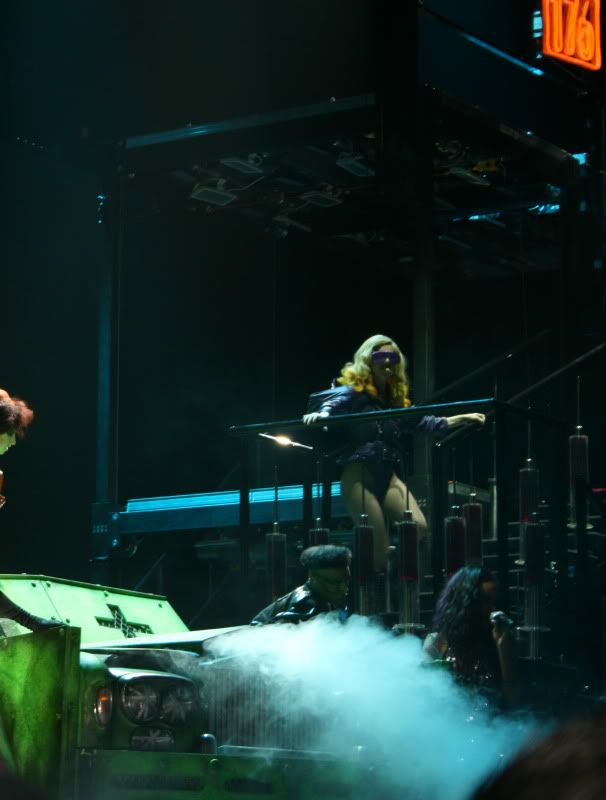 Then she performed the crowd pleaser 'Just Dance'. Although it's probably one of my least favourite tracks, the atmosphere and live factor made it a lot more appealing.
At some point she managed to put on a sparkly purple version of her Grammy Phillip Treacy/Armani Prive headpiece (the woman was like a superhero with the outfit changes!). Then she performed 'Beautiful Dirty Rich' and another new song 'Vanity'.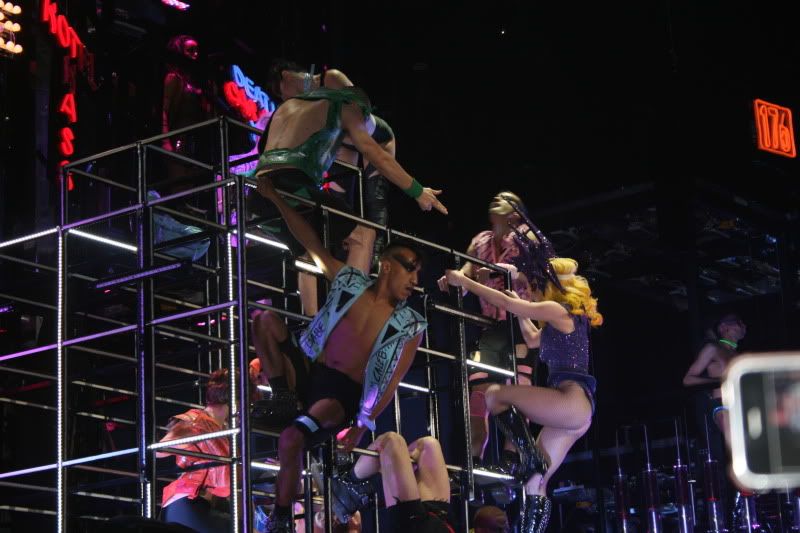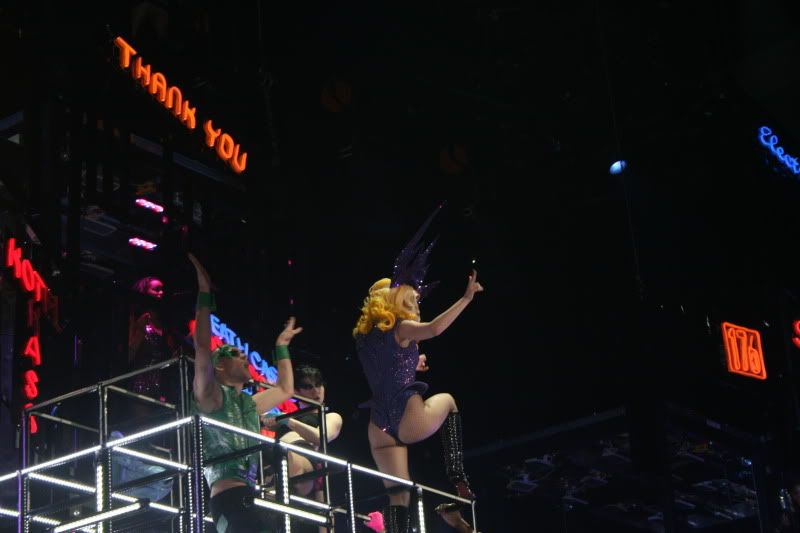 Then she put on a red cape which was like an exaggerated version of the outfit she wears in the 'Beautiful Dirty Rich' video to perform 'The Fame'.
Then she appeared on a replica subway cart (which I think was the same one she used at her performance at 2009 MuchMusic Video Awards) and sang 'Love Game' and 'Boys Boys Boys'. The Disco Stick also made an appearance!
After an interlude from the dancers (when they somehow made it seem like she was still singing from backstage...I think they recorded her live to play whilst she got changed, but she was definitely live all the way through) she returned in black PVC through a trapdoor in the floor to play 'Money Honey'.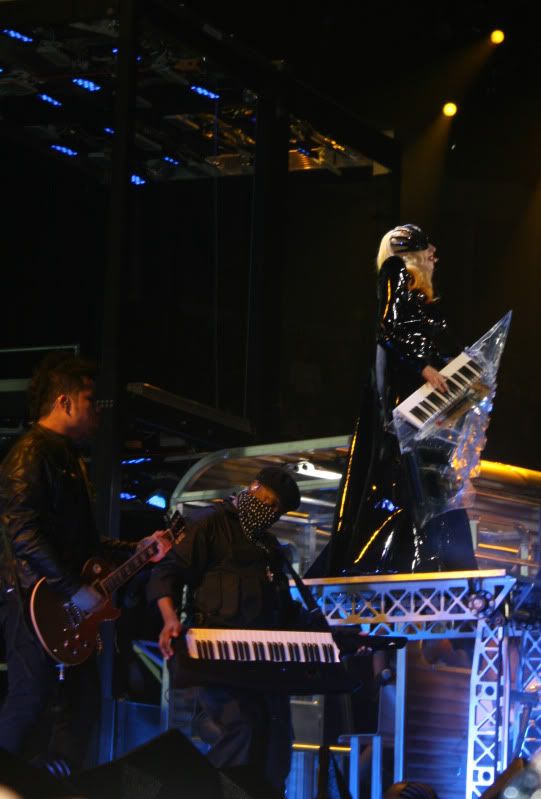 Then she whipped off the trench coat/mask/keytar and sang her next single (the video is released Monday) Telephone. Sadly no cameo appearance from Beyonce'...
Then she kicked back (as much as you would expect Lady Gaga to) to perform 'Brown eyes' and 'Speechless' on a piano with a tube of flames coming out of it.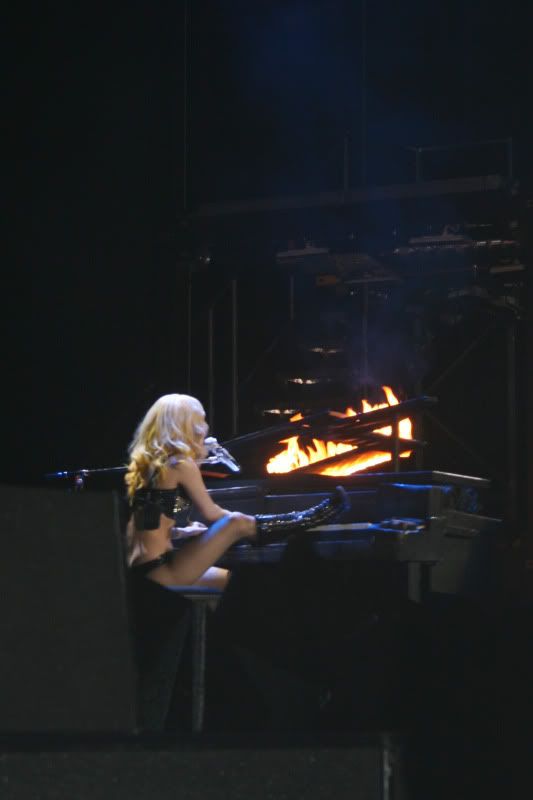 Keeping up? Then another outfit change into the Hussein Chalayan inspired moving dress which she performed in on a levitating platform in the centre of the arena, singing 'So Happy I could Die'. Very angelic and serene performance to say the song is not serene at all and she was on a giant metal platform!
Then I spotted a Charlie Le Mindu (how could it be anyone else?!) in this 'hair monster' outfit, where she appropriately sang 'Monster'. The stage setup was now in a creepy Tim Burton-esque woods scenario, which matched the darker songs of really well.
Then she whipped off the second layer of her hair ensemble to reveal a typical Gaga leotard and vampire bit marks (complete with blood), and performed one of my favourites from 'The Fame Monster', 'Teeth'.
Then she sang 'Alejandro' (rumoured to be her next single after 'Telephone') where the performance reminded me of the part in Sleeping Beauty where Aroura is fixated by the spinning wheel, except here naturally it was a fountain of youth where she dived in and was lifted out by a beefed up dancer.
Next she performed 'Poker Face' in another outfit that harked back to her early days (even though that was only about a year ago...) in leopard print. Does anyone remember the bit in the Spice Girls movie where they escape the tour bus and go down the Thames on a speedboat?? This outfit totally reminded me of Geri's getup from that scene...
Then was the definite standout performance of the night. The narrative had now led the audience from Gaga's apartment to enchanted woodlands and now was the culmination of the story- the monster! Gaga appeared in an outfit which was a mix between the crystal dresses she used to wear when she was first becoming exposed and a mermaids meets Dorothy character. The fact that Gaga kept up to the acting really added another dimension to the performance. The stadium was really dark and eerie when she appeared and was talking, then all of a sudden you saw these giant glowing eyes from the stage and from nowhere was this GIANT (I cannot stress this enough MASSIVE) monster puppet squirming and writhing. Gaga sang 'Paparazzi' before she shouted at the audience to kill it by 'taking his picture'. This kind of crowd participation reminded me of Rocky Horror, needless to say it was AMAZING. This is where the famous lightening bra made an appearance (you've probably seen it in the end of the 'Bad Romance' video) but it was insane to see up close!
Gaga returned for her encore, finishing with (of course) 'Bad Romance'. Much like the monster, she appeared in the shadows, illuminated by a red light and wearing another famous Gaga piece, the Haus of Gaga's 'The Orbit'. The crowd went CRAZY so my photos were all over the place by this point. They finished doing the Lady Gaga fan 'claws' and baring their teeth.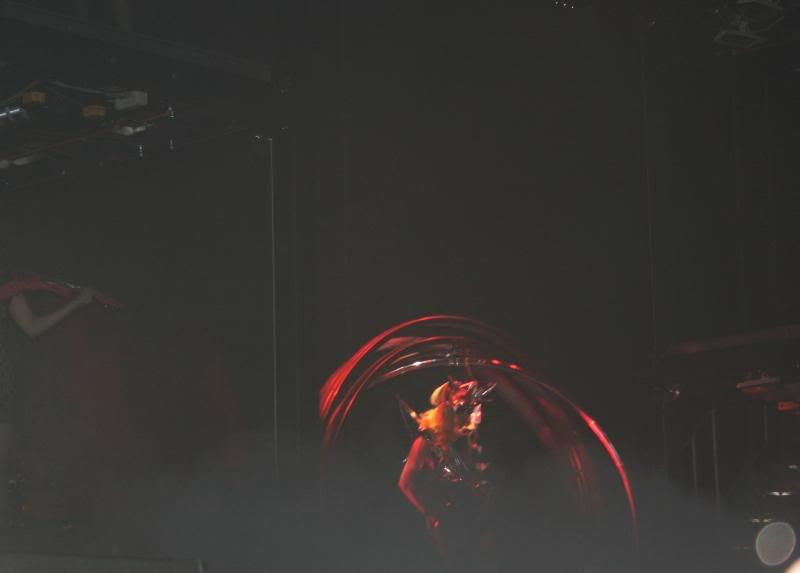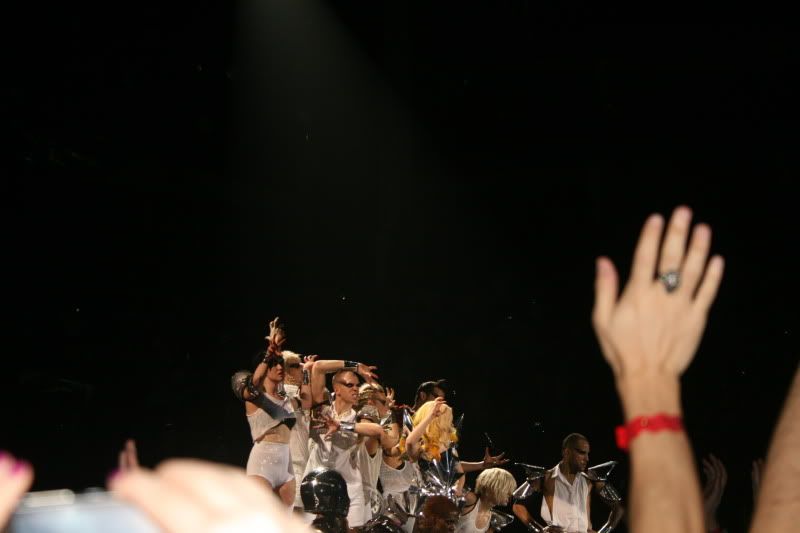 The concert was amazing and I'd definitely recommend going if you can. If not there is a 3-D dvd of her O2 performances coming out (!). It was an unreal experience to have been following Lady Gaga from when she had a simple myspace page and youtube channel when she was relatively unknown to seeing her in a 10,000 capacity venue. What's astounding is she's been killing it all along.
'A poem for my fans: in every minute of the day, the truth is that I'm dead. Until I'm here on stage, with you, then I'm alive instead.' -Lady Gaga
(videos via youtube, Phillip Treacy image- gagadaily, all other images, me)
//Emily