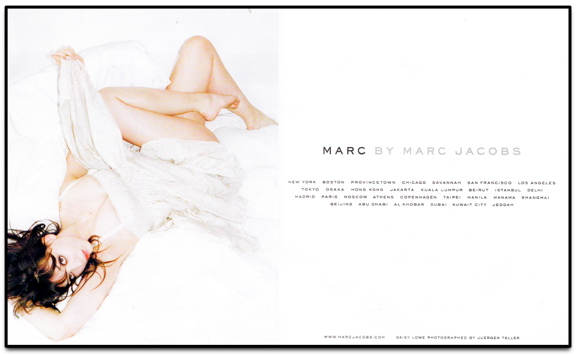 Victoria Beckham has been replaced by Daisy Lowe for the upcoming S/S 09 ads, shot by of course Juergen Teller.
The ads keep to the Jacobs-advert mantra of selling clothes by not really selling clothes i.e. featuring ads for clothes without actually showing them. This goes to show the strength of the Marc Jacobs brand, and also the fact that using racy ads sells better than showing clothing in a flattering light.
The use of Daisy also brings to light her strong standing within the industry. She has recently fronted the Agent Provocateur campigns and she is set to feature in Spring 09 campigns such as Pringle and DKNY.
The campign has proved to be less controversial than Cole Mohr in drag and Victoria popping out of giant bags, and Daisy can definately do controversial (kinky i-D shoot with her boyfriend anyone?). More images are bound to be released so watch this space...