I recently had the opportunity to interview renowned pop surrealism artist Camilla D'Errico for a University assignment.
She is a really nice person as well as a very talented individual.
I thought I would put the interview up here in it's full as due to the word limitation of my piece I was not able to include all of it.
Where do you get most of your inspiration for you work? Do you keep a sketchbook?
I get my inspiration from lots of places, especially from manga, anime and other artists. I do keep a sketchbook.

How would you describe your work to someone who had never seen it before?
As far as my paintings go I'd describe them as portraits of girls juxtapozed with animals, and they girls are trying to say something but its up to you to decide what they're saying. I use tons of colour and I like to give emotion to the paintings so that people can connect to them.
What is the art scene like where you are from, and did it influence you much growing up?
The art scene in Vancouver is pretty vibrant, not as much as LA, where most of my shows are. But still, Vancouver has lots going on, a huge Asian population, and a very laid back attitude, so there is no stuffiness or snobbiness like you might find in bigger cities or art circles.
Your work has been expanded into many products such as snowboards, magazine covers, toys, clothes. How important do you think it is to make art accessible for everyone?
Very important! I love expanding into all kinds of merchandise, its fun. I think that since art is so subjective, and there are so many ways of expressing ideas, the more that is out there, the better!
Tell me more about your high fashion line which is coming out...what is the inspiration for it and who do you picture wearing it?
My high fashion line is still in the very early stages of design development. I haven't quite figured it all out yet. I want all women to wear it, it is going to be for everyone, but its going to be totally different from the casual clothes scene. I want to expand beyond tshirts and hoodies and give women something elegant to wear so they feel special and unique.
As an established artist yourself, is there anyone's work you particularly admire? Do you have any heroes?
Ashley Wood, Toulouse Lautrec, Kent Williams, Tsutomu Nihei, CLAMP, Terada Katsuya, Yoshitobe Abe and so many other artists. I also admire Lori Early, Kathie Olivas, Mark Ryden … and am friends with Tim Biskup and Gary Baseman, who are simply unreal artists!
How do you feel about the role of manga and Japanese art in the wider art community, and what would you say to people who do not perceive manga to be a form of art?
The culture behind manga is what inspires me - the differences between our cartoons and Asian anime, is that they don't consider is a child's media it is another way of telling a story. Once you allow yourself to see past the idea that cartoons are just for kids, it opens you up to a whole new world of ideas. And I grew up watching and reading as many manga as I could get my hands on; I love it.
What personality do you imagine for the girls that feature in your paintings?
They have very ambiguous personalities, they are multi-faceted – like most women!! I have a strong personality myself, but there are days when I am one person, and days when I feel like another. All in all I think that each person can see something different in every girl I paint, and that is a reflexion of themselves or of how they view the world.
You have previously worked on vinyl, do you have any plans to use vinyl or expand into different mediums again in the future? And which is your favourite medium to work in?
My favorite medium is the BIC pen when drawing a comic panel! I have done sculpture too, which is a lot of fun but takes lots of time. I am not a huge fan of painting vinyl blanks because I seriously hurt myself doing it! You have to take them apart, paint them, put them back together … but the end result is always worth it. I'd like to work with some vinyl toy companies to make some vinyl toys based on my characters.
Your work is currently being featured at the 'Dark Pop' exhibition; do you see your work going down a darker path in the future?
Dark is quite difficult … I am not a dark person myself, and so doing something dark was a nice change, but I couldn't do dark on a regular basis. I think my essence is light, so I paint what I am inside. I have my dark and sad days, but in general, I am a child of light!
What can fans such as myself expect from your work in the future?
I am always trying to improve what I do, and practice makes perfect! The more I paint, the more I want to add details and refine what I am doing. I'll be diving into a lot of comics work coming up, which I am very excited about. There are two projects I'm working on for clients, plus I am expanding my Tanpopo series. And of course I'll be looking to make more merchandise and do some more collaborations.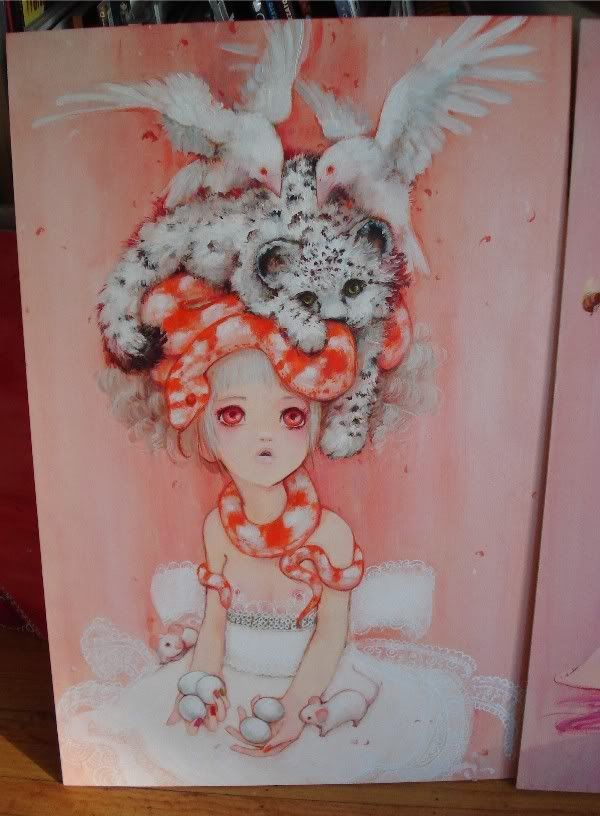 And some quickfire questions to round off….
Your recent solo show was entitled 'Waterfall of Dreams', what did you last dream about?
I dream about the mangas I read before going to bed … so I am usually dreaming about being in that world and interacting with those characters 
What are you most proud of?
I am proud of how I never gave up on my dream and how I keep living that dream out. I am glad I never stopped or let criticism get me down.
The colour is your work is always very vivid and displays a strong sense of mood; do you have a favourite colour?
Pink
What advice would you give to yourself if you could go back in time?
Learn about contracts.
What is an average day in the life of Camilla D'Errico?
Art, art and more art! I wake up in the morning, take my time in waking up actually, then hit the computer to check my emails and see what's been going on. Then I turn to my art, whether its comics or painting, I call or chat with my sister often because we have so many projects going on. I spend a lot of time keeping after these projects – so sending files, cleaning up images, answering emails from fans, etc. I try to paint at night when I cannot be disturbed. During the day I'll also get lots of calls, or have to go buy supplies, etc. I have a pretty full day, but I still find time to read mangas too.

Your work is very fantastical and you have worked on numerous books, did you have a favourite book or fairytale when you were younger?
I have to say that Disney was a huge influence for me. I especially loved the Brothers Grimm tales.
Do you have a favourite piece of work that you have created?
One of my favorites is Jovey's Antoinette
What is your favourite word?
LOVE
see more of Camilla's amazing work
here!
.